Back
(Discontinued) CR-321 Chroma Meter
The lightweight, portable CR-321 Chroma Meter is designed for highly accurate measurements of reflected color and color differences.
(Discontinued) CR-321 Chroma Meter
The Konica Minolta CR series Chroma Meters are created to be lightweight, portable, compact tristimulus colorimeters for measuring reflected color and color differences in a vast range of industrial fields. There are five models in the CR series that are ideal for the needs of an array of applications. All of the CR models provide excellent inter-instrument agreement allowing for color control of multiple units within a single company or between two or more companies.
The CR-321 Chroma Meter features Ø3mm measuring area along with a 45° circumferential illumination/0° viewing geometry ideal for measuring small areas of glossy surfaces.
(Discontinued) CR-321 Chroma Meter
Illuminating/viewing system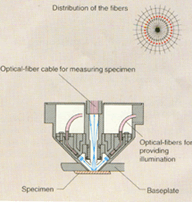 The measuring head of the CR-321 uses 45° circumferential illumination/0° viewing geometry(similar to the geometry of printing industry densitometers) to provide accurate color measurements of printed materials and other glossy subjects. Light from the pulsed xenon arc lamp is projected onto the specimen surface by 30 optical fibers arranged in a circle around the measurements axis to provide diffuse, even lighting over the ø3mm measuring area. Only the light reflected perpendicular to the specimen surface is collected by an optical-fiber cable for color analysis.
Color-Control Applications
Paint Industry
Small painted areas.
Printing Industry
Glossy printed materials, such as magazines, catalogs, etc.
Data Processor(DP-301) Features
Full portability for On-the-Go Color Control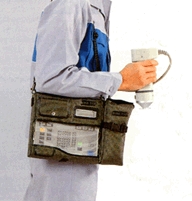 Each CR-300 series Chroma Meter consists of a lightweight, handheld measuring head and a compact, battery-operable data-processor. The whole system is fully portable and can be used wherever the measurement subject is, indoors or outdoors, for on-the-spot color control.
Variety of Data-Processing Functions
The data processor of the CR-300 series Chroma Meters is an all-in-one unit with an LCD display, thermal printer, and RS-232C, remote-control, and ΔE*ab alarm terminals.
Data can be displayed, printed out, or output in a variety of color systems.
To provide the highest measurement accuracy, the data processor is equipped with a multicalibration function, which utilizes all calibration data in memory (calibration data can be stored in up to 20 memory channels) in calculating the measurement data. Users can also select a single calibration memory channel if desired.
Other features of the data processor include: Memory space for 300 sets of measurement data; 20 memory channels for target data for color difference measurements; statistical calculations; an interval timer for automatic, timer-controlled measurements; and a ΔE*ab alarm function.
(Discontinued) CR-321 Chroma Meter
There are no specifications listed for this product.
(Discontinued) CR-321 Chroma Meter
No accessories for this product.
(Discontinued) CR-321 Chroma Meter
There are no support documents listed for this product.