Accessories for Color Measurement in Paint and Plastics With CM-600d and CM-700d Spectrophotometers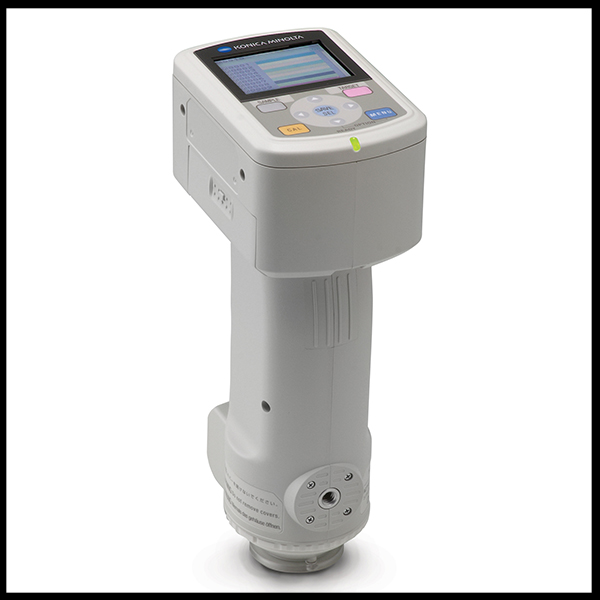 Most of our color, light and 3D scanning instruments come with accessories that are designed for unique and special applications. In this post, we'll present an overview of accessories used with our CM-600d and CM-700d spectrophotometers for color measurement in the paint and plastics industries.
The CM-600d and the CM-700d are handy, easy-to-use instruments that are ideal for measuring the colors in both paints and plastic objects. Like all Konica Minolta color measurement instruments, they are engineered to provide the highest accuracy in measuring results found anywhere in the industry. This ensures that color standards are being adhered to throughout the entire manufacturing process.
Both standard and optional accessories are available for these two color measurement instruments. Here we'll look at three of the optional accessories that can be used with these two spectrophotometers. They include the target mask with glass, the custom pivoting base and a dust cover.
The target mask with glass is a useful accessory to have when measuring powders and wet surfaces. The protection glass plate prevents the subject being measured from damaging the instrument. The plate can flatten soft sample forms, ensuring that objects such as textiles are perfectly flat during the color measurement process.
It's easy to attach the target mask to a spectrophotometer. Once it's in place, it is safe to take measurements of powders and wet specimens with no fear of harming the instrument.
The custom pivoting base is another accessory that is used in the paint and plastics industry. The base comes with a 3mm and 8mm target mask and is recommended for measuring flat samples. The large base plate increases stability, and the marked target area provides precise positioning.
Factories where paint and plastics are produced often are dusty. When performing color measurement in any dusty environment, a dust cover will protect the instrument from damage and prevent inaccurate readings caused by dust. This accessory is also ideal when you're measuring pastes, powders or wet surfaces. The cover provides a plastic shield that completely and securely fastens around the instrument, giving maximum protection.
The advanced technology Konica Minolta has built into the CM-600d and CM-700d spectrophotometers makes them among the most accurate color measurement instruments in the world. Here are some features both devices share:
Inter-instrument agreement – Within ΔE*ab 0.2 (MAV/SCI)
*Based on 12 BCRA Series II color tiles compared to values measured with a master body at 23°C
As many as 4,000 sets of measurement data and 1,000 sets of target data can be stored in the instrument's memory.
Bluetooth wireless technology lets you send measurement data to a computer or printer. It is also compatible with USB ports.
Color integrity is maintained across the supply chain because of enhanced communication with suppliers.
High production reproducibility rate lets users know that when using several instruments in a measuring task, or measuring at multiple locations, the measurement data will be consistent.
Much information can be seen on the color LCD screen – color difference graphs, pseudocolor, spectral graphs and more.
Operating the instruments is simple with buttons in place to access target colors, call-up menus and other often-performed tasks.
Optional color data software allows for single-screen viewing and editing of full data for an application.
Portable, lightweight and compact – easy to hold and to use. Design feels comfortable in your hand.
SCE and SCI measurement automatic switching.
Konica Minolta's CM-700d and CM-600d are truly amazing instruments. In standard measuring tasks and in unique, specialized applications with optional accessories, technicians in the paint and plastics industries are assured of rapid, highly accurate results in all their measuring projects.
If you'd like to know about Konica Minolta's CM-700d or CM-600d or any of our other products, feel free to call us at +65 6895 8685, or you can contact us through our website.  https://sensing.konicaminolta.asia/contact-us/rfq-form/
About the Author: Alan Chua
Alan Chua is the Assistant Manager of Konica Minolta Sensing Singapore Pte Ltd. Graduated from an electrical engineering background, he is mainly involved in sales, seminar, training and coaching in the field of light and color management. In his 18 years of experience in managing and providing solutions to the many industrial applications, he has also conducted color seminars and workshops to educate the industry on instrumentation technologies and color science. He was also invited as speaker for The Academy of Fashion Professions (TaF.tc) seminar which is the training arm of Textile & Fashion Federation (TaF.f). He was also the speaker for the Color Cosmetics Conference.