Characterization of Blind Spot Monitoring (BSM) Alert Indicator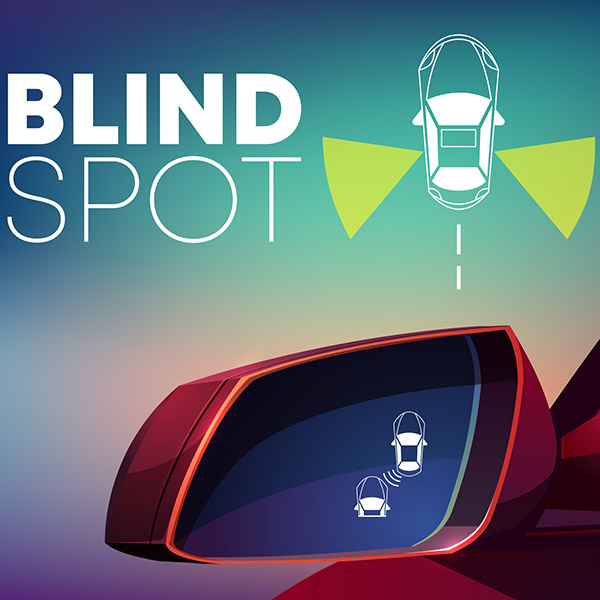 Automobiles are becoming increasingly complex and smarter. Thanks to the Advanced Driver Assist Systems (ADAS), vehicles are loaded with various integrated cameras and sensing systems that help drivers back up safely, avoid a collision, supplement their vision at night, and warns the drivers when a vehicle is in their blind spot.  ADAS typically uses embedded-vision, RADAR, and/or LiDAR-based technology to continuously monitor the environment outside the vehicle.
ADAS functions are fast becoming commonplace in new vehicles, and the Blind Spot Monitoring (BSM) system is one of the functions that is rapidly gaining in popularity, even appearing on mid- and low-end trims. Currently, BSM is not legally required but does play a proactive role in reducing blind-spot related accidents and improve driver's safety. The feature of the BSM system has not been standardized yet and is still evolving with different function names used by the automakers like Blind Spot Information, Side Assist, Side Blind Zone Alert, Lane Change Assist, etc. The National Highway Traffic Safety Administration (NHTSA) has indicated that they intend to adopt this mechanism in their safety ratings system.
Automakers use different signals to warn the driver of vehicle in their blind spot zone. The signals usually come in the form of an amber or yellow warning light on the relevant side of the side view mirrors or the A-pillar of the vehicle. Some automakers also had the warning indication displayed on the face of the rear-view mirror. These warning light helps alert the driver without distracting them. If a driver changes the lanes while the warning light is illuminated, the warning light will start flashing, followed by a beeping audio alert to warn the driver of the danger ahead.
The Importance Of Measuring BSM Warning Lights
To ensure the visibility and recognition of the BSM warning signal under day and night driving, the automakers will usually need to measure the character or symbol height, font, character height-to-width/stroke-width/spacing ratios, luminance (brightness) and luminance uniformity, contrast, color, text labels (for icons and symbols). To ensure a grand distinction of the automaker's brand against competitions, new and adaptive quality control measures, from product development to production, are needed.
SAE J2802 and ISO FDIS 17387 specifications provide guidance on designing luminance (brightness) levels. While these standards are for passenger vehicles, the recommended luminance levels may provide system developers insight into appropriate luminance levels for such BSM systems. Regardless of the source, the luminance levels under varying ambient light conditions (e.g., day and night) must be tested and verified for appropriateness for the intended uses.
Radiant Vision Systems Solution
Radiant Vision Systems, together with Konica Minolta, provide visual inspection solutions which can take over a manual inspection by human eyes in production. The visual inspection solutions feature Automatic Points of Interest (Auto-POI), a software tool that is designed specifically for measuring backlit symbols. It automatically selects backlit symbols based on luminance and color values, regardless of its size, shape, or position/location. This simplifies the process of evaluating BSM warning lights for uniform luminance (user-specified minimum Lv percentage) and chromaticity (user-specified CIE cx, cy values), and maintain measurement accuracy even when panels move, shift, or change during the inspection.
Incorporating with high-resolution measurement solutions like ProMetric® imaging Colorimeters or Photometers, calculations may be run on one panel or many panels simultaneously to increase throughput or minimize test time needed.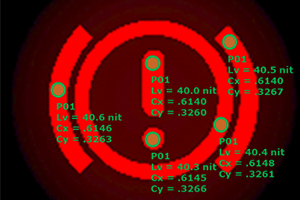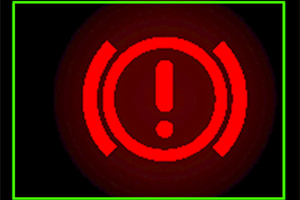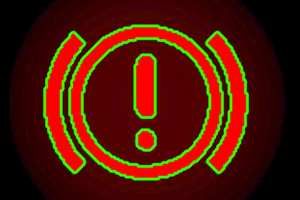 When testing backlit symbol quality or looking for defects, you do not always have one specific failure mode that you are testing. Radiant Vision System's TrueTest software can address this by providing a comprehensive set of predefined tests which includes:
Luminance (Lv), color (CIE: Cx,Cy; u',v'), uniformity, and contrast
Pixels, lines, and particles defects
Blob analysis
The TrueTest software also feature a pass/fail report, and a flexible framework that include:
Test sequencing for fully automated inspection
Run a series of analyses on a single measurement image
Run analyses in sequence with several images
Beside ProMetric® imaging Colorimeters or Photometers, Konica Minolta also offers a wide range of handheld portable luminance and color meters and spectroradiometers that enable spot measurements of color and luminance of backlit symbols. With different acceptance angles, depending on the model, a measurement spot area as small as dia. 0.1mm can be measured.
To find out more information or seeking a solution to test and evaluate your automotive light and display, check out our range of advanced light and display testing and evaluation solutions.
Alternatively, you can also contact us at for a free consultation with our application specialists and let us assist you in selecting the right instruments for your measurement needs.