Color Education Series – LED Metrology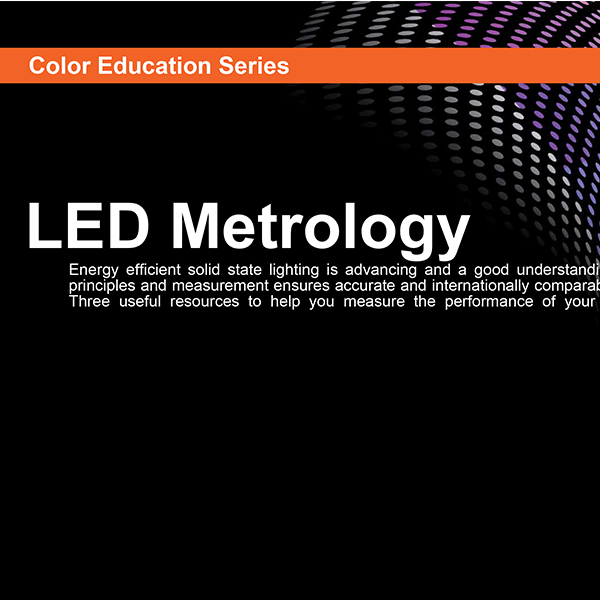 Incredible developments in LEDs in recent years have generated a significant growth market with completely new applications. Full color displays only became possible with the introduction of high-intensity blue LEDs, while white LEDs are becoming widely used in solid state lighting (SSL) engineering and the automobile industry. These new applications have placed increasingly stringent demands on the optical characterization of LEDs, which serves as the benchmark of product quality.
Specific expertise is needed in order to obtain precise and reproducible results. Color Education Series – LED Metrology discusses the special characteristics of LEDs and provides recommendations for obtaining accurate measurement results. The goal here is to provide not only an introduction to LED metrology for readers new to this subject area but also a useful reference work for more experienced readers.
A short introduction describes the basic terms and definitions used in photometry and colorimetry and details the physical properties that are specific to LEDs. Later sections describe the test setups and methodology required for accurate LED measurements. Possible sources of error arising from interactions between LEDs and measuring instruments are also discussed.
Click here to download Color Education Series – LED Metrology.
If you like to know more about LED measurement and any of our other light measurement products, feel free to call us at +65 6895 8685 or you can write to us at ssg@gcp.konicaminolta.com.
About the Author: Mervin Woo
Mervin Woo is currently the Sales Manager for Konica Minolta Sensing Singapore Pte Ltd. Mervin graduated from The Royal Melbourne Institute of Technology (RMIT University) and joined Konica Minolta (previously known as Minolta Singapore Pte Ltd) in 1996. With over 17 years' experience in the field of light and colour instrumentation industry, Mervin has been invited to give talks in several conferences and seminars on light and colour management, jointly organised by various industry associations, such as Society of Information Display (Singapore and Malaysia Chapter), and International Commission on Illumination (CIE), Malaysia. He has also written an educational handbook, The Language of Light, which explains basic concepts in photometry and colorimetry. This handbook also gives an overview on photometric and colorimetric instrumentations and addresses important considerations on instrument's selection.