How To Measure CRI and Illuminance With the 500 Series Spectrophotometer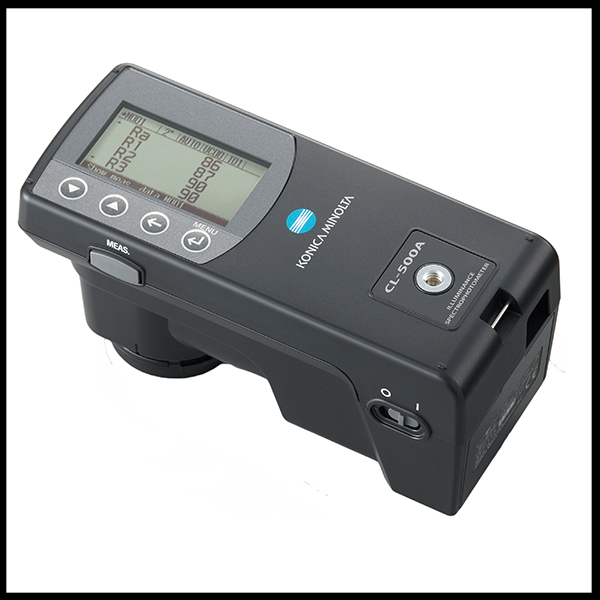 The CL-500A Illuminance Spectrophotometer is our first hand held version of this instrument and is capable of measuring CRI and illuminance right on the unit. It's completely stand-alone and turn-key. Simply turn it on, and start measuring.
The CL-500A can be used in a broad range of industries including lighting products manufacturing and lighting product design, where it's important to measure CRI, color temperature and illuminance all at the same time.
Compact and easy to use, the CL-500A has a built in lithium battery which can be charged via a USB port.
In addition to spectral power distribution, this instrument is capable of measuring illuminance in foot candles or lux and chromaticity, excitation levels, dominant wavelength, color temperature and CRI.
It is important to calibrate the CL-500A every time before you use it. This is because when light sources is different or even small vibrations can cause discrepancies in measurements. Calibration helps ensure your readings are accurate.
The difference in distance between the sensor and light source can cause discrepancies in measurements, hence, it is important to document not only the distance but the angle between them to obtain accurate and consistent measurement data.
Multiple factors can influence the amount of light in a given space. Hence, for large area measurement, it is recommended to divide them into a grid and conduct measurement at each grid individually. After which, average all the measurement data to get the average illuminance in the area.
Learn more on light measurement from the most basic principles to complex and detailed overviews of light science with our free education booklet.
To learn more about how to accurately measure CRI and illuminance, click here  or contact us at (+65) 6563 5533.
About the Author: Mervin Woo
Mervin Woo is currently the Sales Manager for Konica Minolta Sensing Singapore Pte Ltd. Mervin graduated from The Royal Melbourne Institute of Technology (RMIT University) and joined Konica Minolta (previously known as Minolta Singapore Pte Ltd) in 1996. With over 17 years' experience in the field of light and colour instrumentation industry, Mervin has been invited to give talks in several conferences and seminars on light and colour management, jointly organised by various industry associations, such as Society of Information Display (Singapore and Malaysia Chapter), and International Commission on Illumination (CIE), Malaysia. He has also written an educational handbook, The Language of Light, which explains basic concepts in photometry and colorimetry. This handbook also gives an overview on photometric and colorimetric instrumentations and addresses important considerations on instrument's selection.