Rhopoint Novo-Gloss Flex 60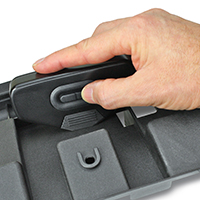 The Novo-Gloss Flex 60 Glossmeter, with an ultra-lightweight remote measuring head that complies to ISO 2813 and ASTM D52, is capable of measuring gloss applications with small footprint areas and hard to reach surfaces that cannot be measured with traditional glossmeters.
Specifically designed for gloss control of low gloss surface finishes, it features an additional gloss scale (GUh) that offers a resolution 10 times greater than standard glossmeters with accuracy up to the 2nd decimal.
The remote measuring head comes with changeable, non-scratching plastic apertures; standard adaptor and steel surface adaptor, with the latter featuring Neodymium magnets that attach itself firmly to the metal surface , offering stability and reproducibility on metal surfaces measurement.