Spectramagic NX
Spectramagic NX provides color measurement and control for use in a multitude of industries. From food, plastics, paint & coatings to cosmetics, pharmaceuticals, and textiles, the industries that Spectramagic NX can aid are extremely diverse. Whether your color control involves raw materials coming in, inter-process production or outbound color critical goods and materials, SpectraMagic™NX makes it easy to inspect and control color. Utilize pre-defined screen templates for statistical process control, Pass/Fail assessment, and sophisticated R&D analysis. Or, design your own screen layout based on your particular industry and/or application. Each graph type (colour, spectral, trend, or colour difference), as well as the data list, can be scaled to the desired size quickly and easily. SpectraMagic™NX – lots of options to help you choose just what's right for you.
SpectraMagic™NX allows you to insert digital pictures into your measurement data while marking the exact measuring spot. This creates novel ways in which to communicate about color with customers and suppliers. The Data List View allows you to swiftly export measurement data into Excel using the copy and paste function. Reports can be customized to show color data in a format that meets end user requirements. Any graph can be copied into a spreadsheet by the "drag and drop" method. Additionally, SpectraMagic NX can share data within a local area network (LAN) and operate under Windows 98, SE, NT4, 2000 Professional, XP Professional, and Vista.
Another "world first" is the exclusive navigation function of SpectraMagic™NX, which combines a "step by step" online help for basic operations with freely customizable macro functions for repeated standard procedures on the production line. SpectraMagic NX Uses HTML coding to allow for total customizations of operations, conveniently illustrated through digital pictures and on screen instructions.
To improve general knowledge for beginners and experts alike regarding color basics and color measurement technology, SpectraMagic NX comes with a unique online tutorial from Konica Minolta's award winning booklet "Precise Color Communications." This booklet explains important topics, such as color basics, chromatic systems, standard illuminations, tolerance settings, and suitable measuring geometries.
SpectraMagic™NX can be interfaced with all current Konica Minolta Chroma-Meters (CR-400 series) as well as all portable and bench-top Spectrophotometer models. By using the same platform across the board, quality control is made more versatile throughout your organization.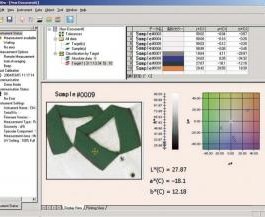 Download the free trial version here.