Spectrophotometer to Measure Cholesterol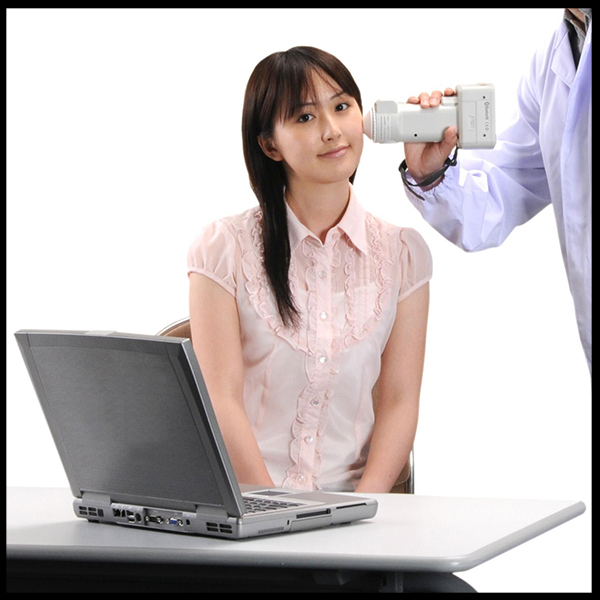 Spectrophotometers for Good Health
Spectrophotometers are commonly used to measure transmittance or reflectance of solids, gases, or other substances. However, in the medical industry, they can also be used to analyze and report crucial health information, such as cholesterol level. This is commonly done via a blood sample.
Health professionals already know that elevated enzyme levels in certain areas of the body indicate that there was recent activity involving that organ. An enzyme sensitive probe can then interact with those enzymes to produce colors and dyes, which can then be measured by a spectrophotometer.
Cholesterol Measurement
In the past, analyzing blood with a spectrophotometer, like Konica Minolta's CM-3600A, can provide fast results for cholesterol levels. The spectrophotometer can measure the presence of resorufin, which is a fluorescent pink dye produced during an investigative assay with a sensitive cholesterol probe. The amount of resorufin is directly related to the amount of cholesterol in the bloodstream.
Spectrophotometers & Skin
Now, with the advent of new technology, the future of cholesterol measurement may be in the skin. Manufacturers have developed a cholesterol test for the skin that is proven to effectively measure cholesterol with a handheld spectrophotometer. The test uses a reagent to react with the skin's cholesterol. Another reagent is added to create a color or hue based on the amount of cholesterol in the skin. The spectrophotometer is then used to measure that color. The more intense the hue, the higher level of cholesterol in the skin. Although skin cholesterol is not the same as blood cholesterol, and is not a replacement for a blood cholesterol test, the two tests can work in conjunction to give insight to a patient's coronary risk such as atherosclerosis or coronary artery disease.
For more information on Konica Minolta or the CM-3600A spectrophotometer, visit https://sensing.konicaminolta.asia/
References
Cholesterol Quantification Using a Spectrophotometric Assay
City company teams with U.S. pharmacy on skin cholesterol test
About the Author: Alan Chua
Alan Chua is the Assistant Manager of Konica Minolta Sensing Singapore Pte Ltd. Graduated from an electrical engineering background, he is mainly involved in sales, seminar, training and coaching in the field of light and color management. In his 18 years of experience in managing and providing solutions to the many industrial applications, he has also conducted color seminars and workshops to educate the industry on instrumentation technologies and color science. He was also invited as speaker for The Academy of Fashion Professions (TaF.tc) seminar which is the training arm of Textile & Fashion Federation (TaF.f). He was also the speaker for the Color Cosmetics Conference.