Verification & Validation (IQ OQ PQ)
Installation Qualification, Operation Qualification, and Performance Qualification.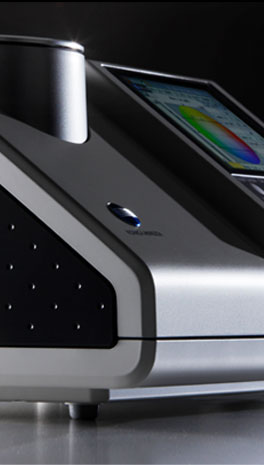 Konica Minolta Sensing Asia is committed to producing the industry's most intelligent and wide-ranging validation and verification (IQ, OQ, PQ) service for our line of software and color measuring instruments. Our validation and verification program is specifically designed to make sure that your software and equipment is satisfying all factory specifications at your location.
By using Konica Minolta's network of validation and verification (IQ, OQ, PQ) certified technicians, we guarantee the flawless installation of instruments and software at your location. As soon as the equipment is installed, our certified technicians verify that every configuration of the software and instrument operate properly. This is to assure that the instrument and software performance for every measurement mode is correct.
Employing certified personnel, calibration tools, and measurement at every step of the process, Konica Minolta's Verification and Validation service accurately analyzes the installation, operation, and lasting performance of your measurement system.
Test results are then documented and offered to each client of our verification and validation service. Every Konica Minolta Sensing Asia Verification and Validation IQ, OQ, PQ service client is sent a package with the documentation which includes the following:
IQ OQ document completed by factory certified personnel at each client's location
PQ documentation
Instrument certificate of inspection
Instrument certificate of calibration
Instrument traceability diagram. This describes the traceability system used.
Instrument white tile calibration certificate
Factory training certificate for Konica Minolta employees who provided the service.
Konica Minolta ISO certificate
Instrument Factory sheets which outline data testing
Current calibration certificate for all tools which were used during verification and validation process
Related products and services:
Konica Minolta Sensing's SpectraMagic NX software includes the tools and options which allow you to meet the FDA's minimum requirement for Title 21 Code of Federal Regulations Part 11 (21 CFR Part 11) compliance guidelines for electronic records & signatures.