Palm Oil and Palm Kernel Oil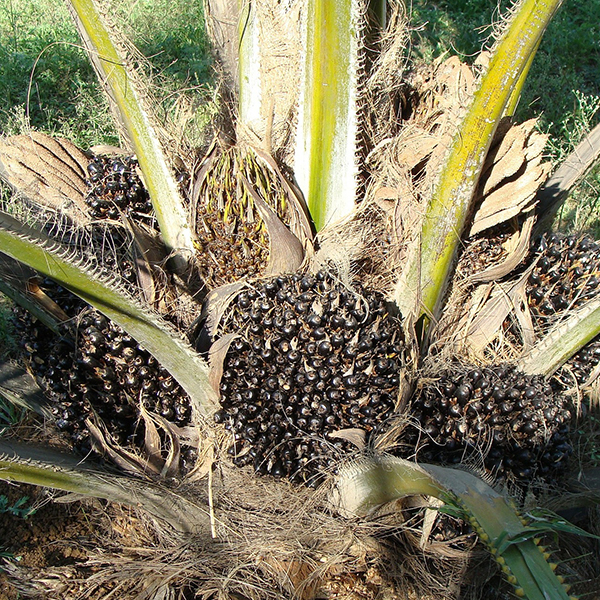 Two types of oil are produced from the oil palm fruits – palm oil and palm kernel oil. Palm oil is derived from the pulp, while palm kernel oil is derived from the kernel of the fruit; hence both are different in color.
Palm oil is reddish due to natural carotenes, such as alpha-carotene, beta-carotene and lycopene, the same nutrients that give tomatoes and carrots their rich colors. Palm oil does not contain significant amounts of cholesterol and it becomes a semi-solid at room temperature.
Palm oil and palm kernel oil are common ingredients used in margarines, biscuits, breads, breakfast cereals, instant noodles, chocolates, ice creams, soaps, shampoos, lipsticks, candles, detergents and other types of cosmetics. The list of products uses oil palm is a long one, it is estimated that about a half of all packaged items found in supermarkets contain palm oil.
Palm oil is mostly used in commercial food and palm kernel oil is used in cosmetic. The widespread use of these oils are due to the low cost and high oxidative stability which is good for frying (palm oil) and a base for soap products (palm kernel oil).
Palm oil comes in different grades and each grade is different in shades, which ranges from red to orange. Just like water colors, mixing of different colors will result in another color, hence blending different grades of palm oil into a product may result in a change of color. For a technologist to quantify color, a spectrophotometer or chroma meter is helpful to measure the color objective. The data provides a numerical color value to help the users in their product development, so as to make sure the product's color is consistent.
The use of palm oil dates back at least 5,000 years ago. In the past, palm oil is considered a highly sought-after commodity, the British uses it as a lubricant for machinery while the Europeans use it as cooking oil.
Here are some interesting facts:
• Palm oil trees can grow up to 20 metres tall and has an average life span of 25 years.
• Each piece of oil palm fruit contains 50% oil.
• Palm oil can be harvested 12 months of the year.
• Oil palm trees can produce 10 tonnes of fresh fruit bunches per hectare.
• On average 3.9 tonnes of crude palm oil and 0.5 tonnes of palm kernel oil can be extracted per hectare.
• Leftover fibre from palm kernel mill is used as palm kernel expeller, an ingredient animal feed.
For more information on color science and color application, you can contact Konica Minolta Sensing Singapore at 6563 5533 or email us at ssg@gcp.konicaminolta.com.
About the Author: Garie Xu
Garie Xu is the Sales Engineer of Konica Minolta Sensing Singapore Pte Ltd. Graduated from a manufacturing engineering background, he is mainly involved in sales, seminar, training and coaching in the field of light and color management. With his prior 3 years' experience in the oil and gas industry and 2 years in Konica Minolta, he is providing solutions to the many industrial applications. He has also conducted seminars and workshops to educate the industry on instrumentation technologies and color science.