Spectrophotometer CM-26d / CM-25d
The new d:8° portable sphere Spectrophotometer CM-26d and Spectrophotometer CM-25d were developed for true "Digital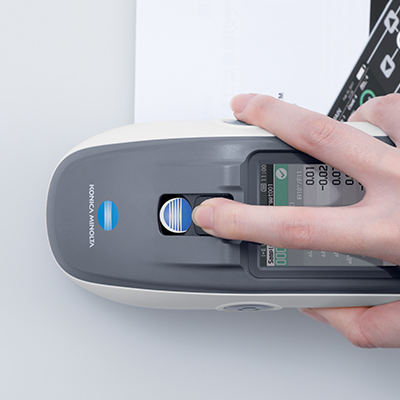 Color Data Management" to help minimize the need of physical samples within a supply chain.
With tight inter-instrument agreement levels of ∆E*ab< 0.12 (CM-26d) and high repeatability of σ∆E*ab 0.02 (CM-26d), the CM-26d and CM-25d ensures measurement data communicated within a supply chain remain consistent.
The CM-26d and CM-25d comes with Configuration Tool CM-CT1 software (standard accessory) that allows user to not only create/write instrument settings, but also compiling it into a file and share it within its supply chain.
When used together with Spectramagic NX Software, the CM-26d and CM-25d allows user to create workflow instructions with images. The CM-26 and CM-25d comes with a viewfinder for accurate positioning on sample or small parts. The symmetrical and compact design, allows measurement of hard-to-reach areas like vehicle interior.