Understanding the European Pharmacopoeia and US Pharmacopeia Color Scales
Within the pharmaceutical industry, the European Pharmacopoeia (EP) and US Pharmacopeia (USP) color scales are commonly used to check the color and appearance of liquid pharmaceuticals and facilitate color communication within the industry.
The EP color scale consist of 37 reference colors:
Brown (B1 – B9)
Brown/Yellow (BY1 – BY7)
Yellow (Y1 – Y7)
Green/Yellow (GY1 – GY7)
Red (R1 – R7)
These 37 reference solutions are created from the mixing and diluting of the 3 primary liquids of cobalt chloride (red), ferric (III) chloride (yellow), and copper sulfate (blue).
The USP color scale also uses the 3 primary liquids (cobalt chloride, ferric chloride, and copper sulfate). But they are mixed and diluted into 20 different reference solutions termed by the letters A to T.
Both the EP and USP color scales rely on human judgment by visually color matching sample with the reference solutions. It is highly subjective as color perception differs among individuals, and the surrounding background and ambient lighting can also affect visual judgment. Additionally, the reference solutions are vulnerable to color drift over time and require constant preparation to maintain traceability.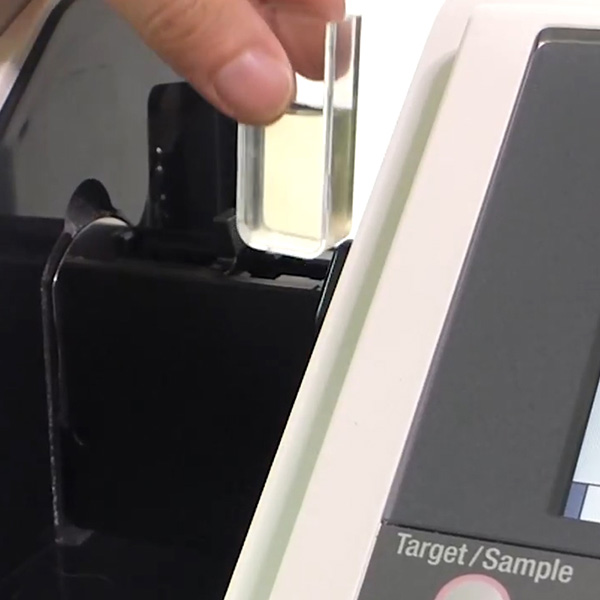 To eliminate the risks of human error and subjective visual assessment, the use of color measurement instruments like Spectrophotometer CM-5 would be helpful. The CM-5, preloaded with EP and USP indices, allows users to overcome the risk and provides accurate and repeatable measurements of the color of liquid pharmaceuticals with ease.
The CM-5 also offers all major colorimetric systems like CIE L*a*b* and L*C*h and common industrial standard color scales like Gardner, APHA/Hazen, and Iodine Color Number. Together with color control software SpectraMagic NX, indices such as Correlated Haze is also available.
Check out this video to learn more about CM-5.
Need help measuring your pharmaceutical colors? Get in touch with our color application specialists for a free consultation or demonstration.