LAUNCHING OF HYPERSPECTRAL IMAGING LABORATORY FOR DEMONSTRATION AND TRIALS IN THAILAND
Singapore, 11 May 2023
We are excited to announce the launch of our new hyperspectral imaging laboratory in Thailand, equipped with the latest hyperspectral technologies to help identify and sort objects with different chemical compositions. Our laboratory offers the opportunity for our clients to experience the capabilities of our push-broom hyperspectral cameras Specim IQ, Specim FX10, and FX17 for hyperspectral imaging.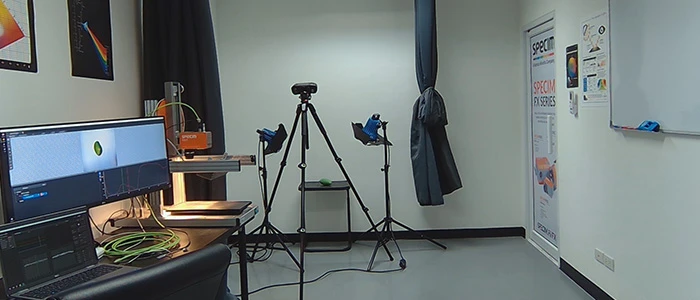 What is Hyperspectral Imaging?
Hyperspectral imaging is a technique that captures both spatial and spectral data from an object, allowing us to see both its physical structure and chemical composition. Over the years, hyperspectral imaging has become an extremely useful tool in various industries, such as agriculture, food, pharmaceuticals, environmental monitoring, etc.
Our Capabilities
Our laboratory is equipped with the push-broom hyperspectral camera Specim IQ that provides high-quality spectral data in a portable and easy-to-use package, making it an ideal tool for researchers, scientists, and professionals in various fields, including agriculture, food, medical diagnosis, art conservation, etc. Our laboratory also has the hyperspectral camera Specim FX10 and FX17, which can be used for laboratory analysis and industrial machine vision applications like precision agriculture, food inspection, etc.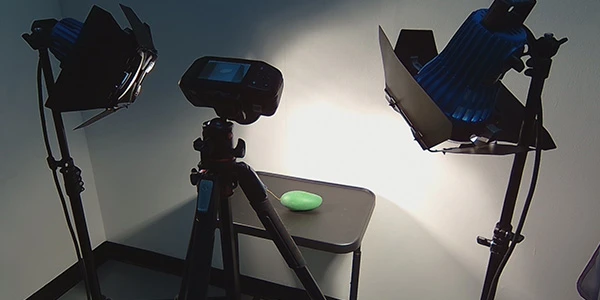 Hyperspectral Camera Specim IQ.
Applications of Hyperspectral Imaging
The ability to identify and sort objects with different chemical compositions makes hyperspectral imaging a very versatile tool across many industries. In agriculture, it can be used to analyze the health of plants or identify areas of the field that need more nutrients or water. In pharmaceuticals, it can help in analyzing the chemical composition of drugs, ensuring they are of high quality. In the food industry, it can be used to evaluate the quality of food products, such as ripeness and freshness, including detecting contaminants or foreign objects.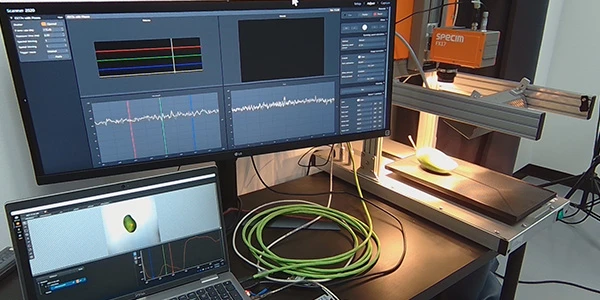 Hyperspectral Camera Specim FX17.
Collaboration Opportunities
We are thrilled to launch our hyperspectral imaging laboratory and provide clients with the opportunity to experience the capabilities of the Specim IQ, Specim FX10, and FX17. We believe that this technology has the potential to revolutionize various industries and are excited to collaborate with like-minded individuals who share our passion for innovation and progress.
With the opening of our hyperspectral imaging laboratory in Thailand, we would like to invite researchers, academics, and industry professionals that are interested in exploring the capabilities of hyperspectral imaging to collaborate with us. Our team of experts is available to assist with your research needs and provide guidance on how this technology can benefit your industry.
About Konica Minolta Sensing Singapore Pte Ltd
Konica Minolta Sensing Singapore Pte Ltd, a wholly-owned subsidiary of Konica Minolta Inc, is a leading provider of industrial color and light measurement solutions. Konica Minolta Sensing Singapore serves the industry in more than 14 countries in the Asia-Pacific region with qualified Distributors.
Konica Minolta's Sensing Business offers various products and solutions in the fields of light source color measurement and object color measurement based on the optical technologies developed from its former camera business. The products and solutions offered by Konica Minolta contribute to the quality and productivity at the customers' manufacturing sites, with many of its color measurement instruments being de-facto standards. Notably, Konica Minolta has more than 50% share in the global market for display image quality measurement and inspection (estimated by Konica Minolta) and has a solid presence as the market leader.
Konica Minolta has actively promoted investments to strengthen its competitiveness. In 2012, the company acquired Instrument Systems GmbH (Germany), which develops high-end optical measuring instruments and has an outstanding track record in the high-performance measurement of displays and LED lighting devices. In 2015, the company acquired Radiant Vision Systems, LLC (U.S.), which excels at high-resolution 2D measurement instruments for displays, image processing software, and automatic appearance inspection systems. In 2019, the company acquired Eines Systems (Spain), a market leader in automobile visual inspection. Most recently, the company acquired Specim, Spectral Imaging Ltd. (Finland), a leading company in the field of hyperspectral imaging (HSI*).
Konica Minolta remains committed to developing its measuring instrument business as a market leader with high value-added products and solutions that enable high-precision measurement of light and color for the ever-growing ICT, automobile, and materials supplier fields. The company strives to continue providing new customer value that surpasses the human eye in the areas of "safety," "security," and "hygiene" to contribute to the solution of global social issues.
Ng Wei Hua
Konica Minolta Sensing Singapore Pte Ltd
+65 6563 5533
weihua.ng@konicaminolta.com
Konica Minolta is a registered trademark of Konica Minolta, Inc. All other trademarks mentioned in this document are the property of their respective owners.